This Natural Bridge Red River Gorge Elopement Shoot is all about rad love and fearless adventure. About getting married for all of the right reasons and not caring or worrying about any unforeseen circumstances in wedding plans. About taking that leap of faith, staring into the eyes of your soulmate, making promises to last the rest of your lives, and embarking on the greatest adventure of all; marriage. This shoot perfectly encompasses the kind of creativity, intimacy, trust, and fearlessness our souls are ignited by.
I gathered my favorite local creatives to fashion a few important elements to help tell this free-spirited couple's love story. These pieces included a dip-dyed fiber art backdrop & a hand-drawn invitation + map. Jewel tones were used to compliment the natural scenery of rolling mountains at The Gorge. Hayley Paige's Remington gown was the perfect blend of elegance and boho-flowy gorgeousness, however, a quick wardrobe change was conceded to as the unpredicted rain began to roll in. As we hiked up to Natural Bridge, we could hear the rain become more and more steady, and it became clear this was not something that was just going to blow over. This is when the real magic happened.
Amongst the protection and shade of the tree canopy, we began to let fate take course. Our couple helped each other freshen up after their hike in order to begin their intimate photo shoot. After playing amongst the moody scenery of the dimmed forest and still listening to the steady rainfall, our couple suggested we still venture up to the top of the bridge to grab a few shots. Afterall, this was the ultimate goal from the beginning. Obviously there was little hesitation on our part.
As we climbed the steps to the overlook on top of Natural Bridge, we could see the fog rolling over the mountainous scene in front of us and immediately celebrated our decision. Moments in, the side of our couple's faces were aglow with rich orange rays of the setting sun. Immediately to the east, a full rainbow emerged. Instantly mesmerized, we took a minute to soak in the breathtaking, dream-like scenery while drops of rain continued to soak our clothes.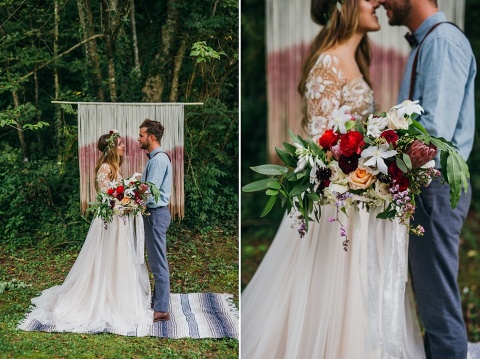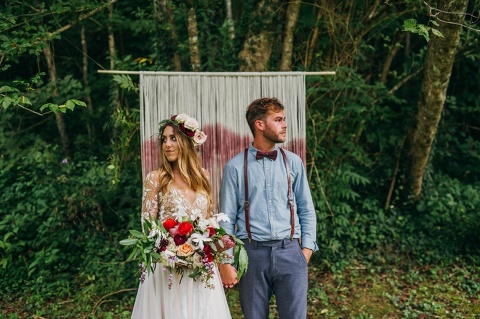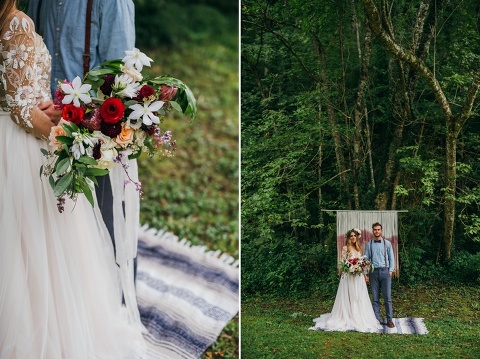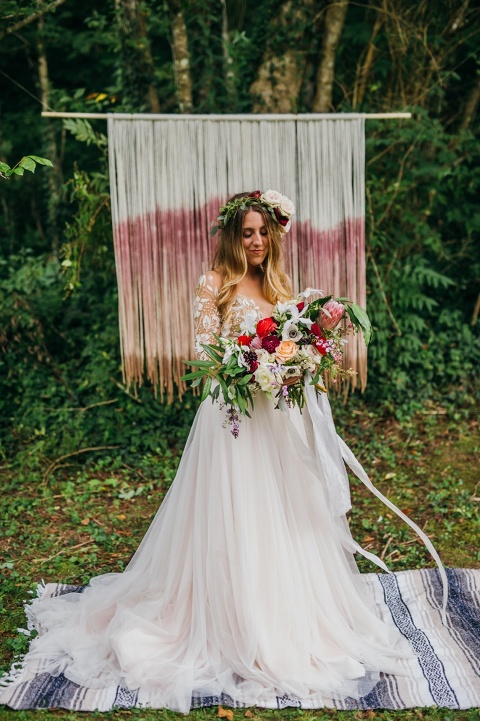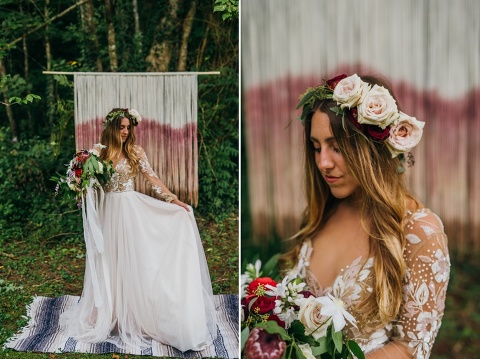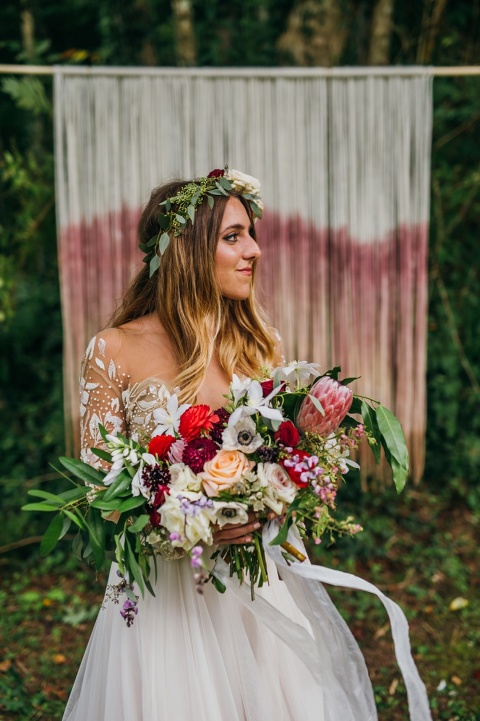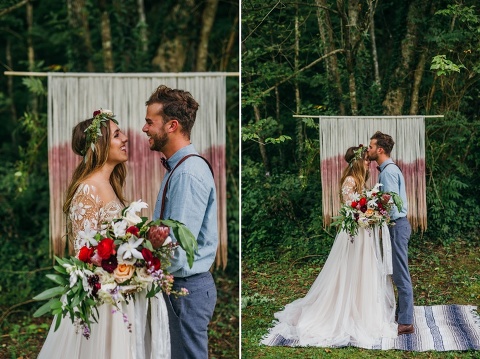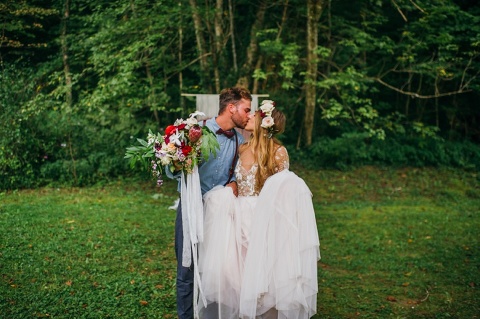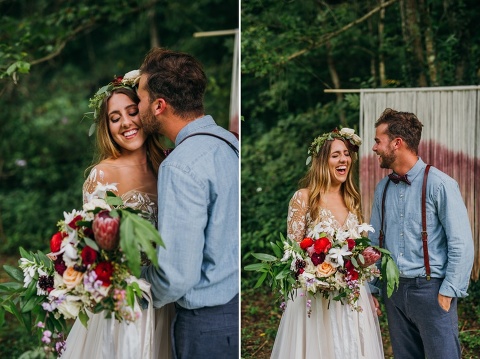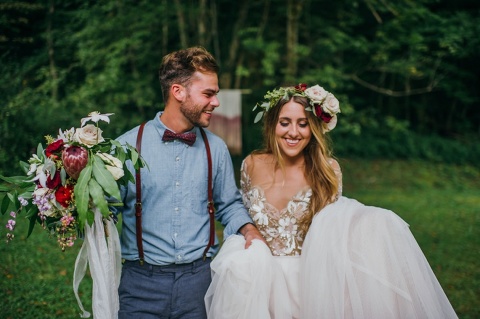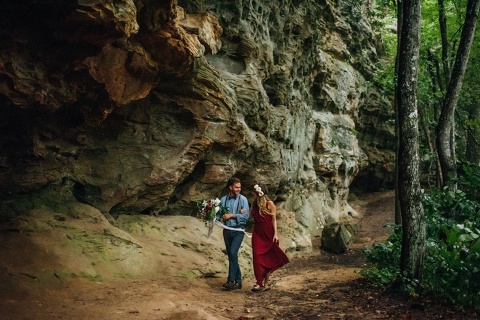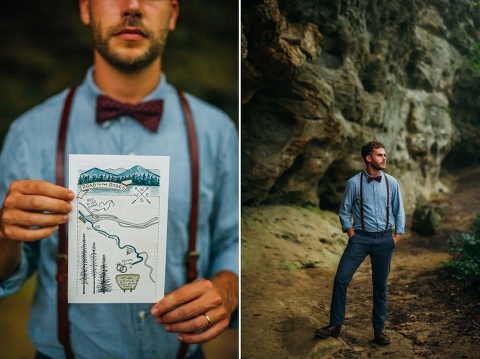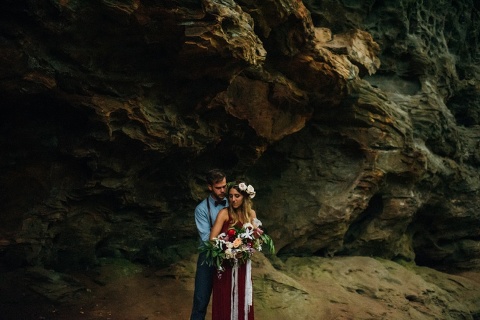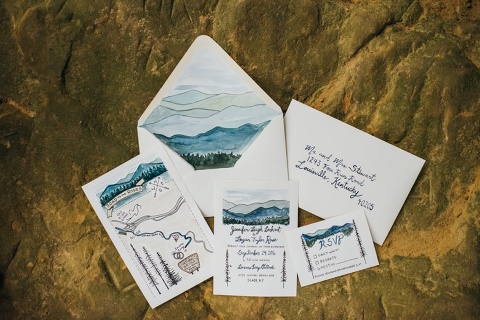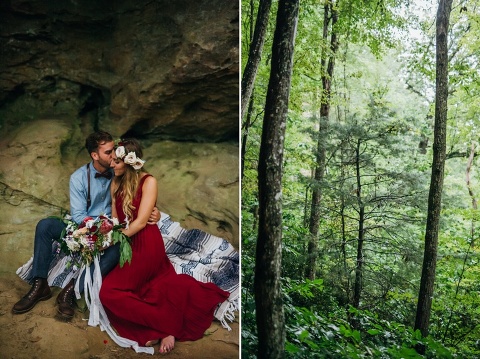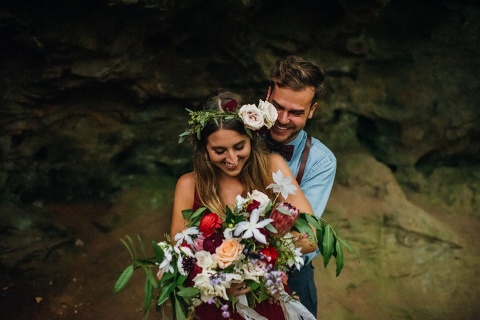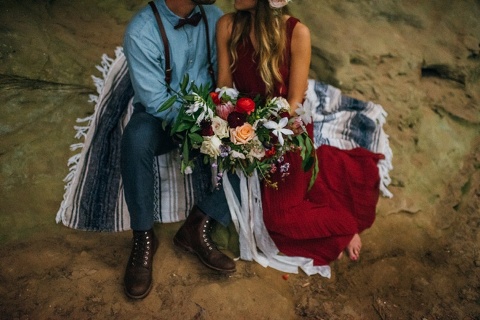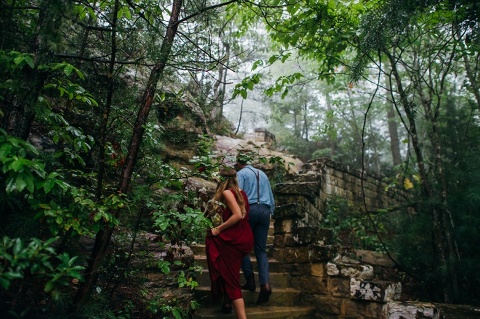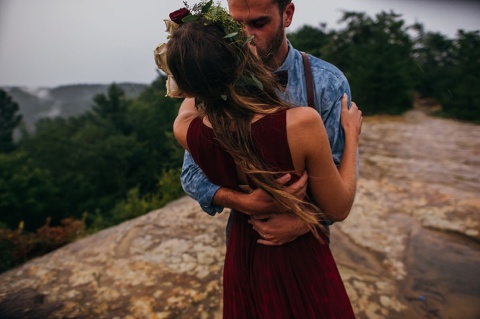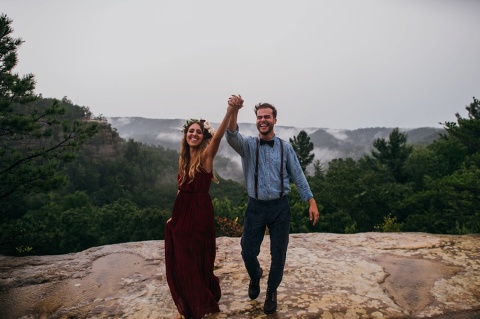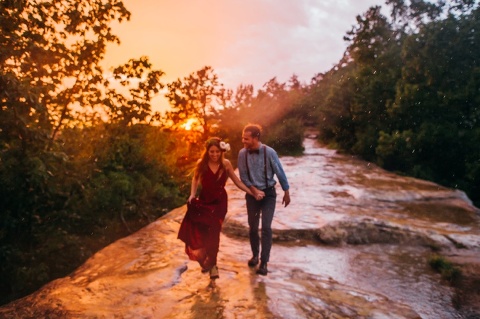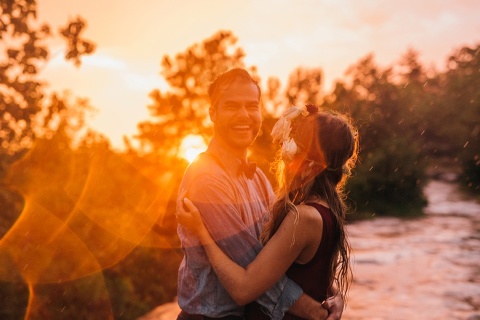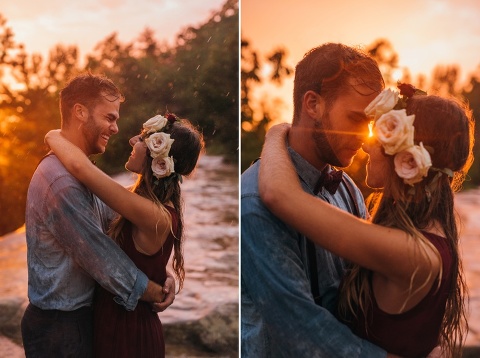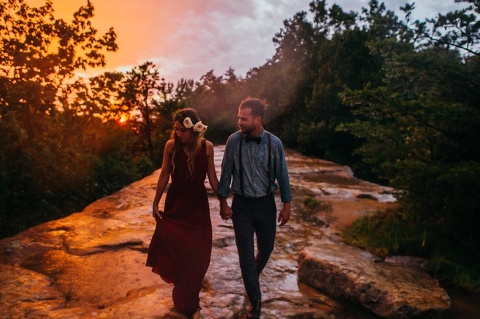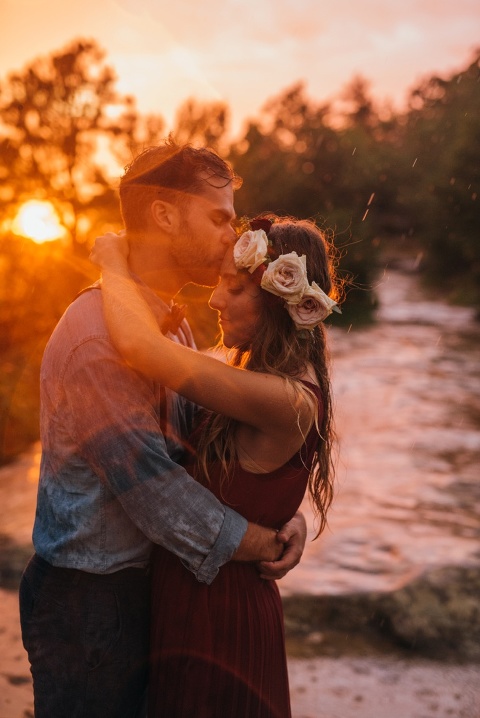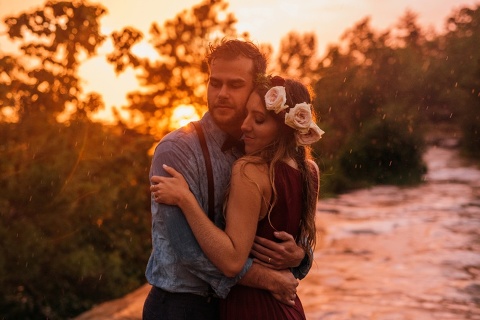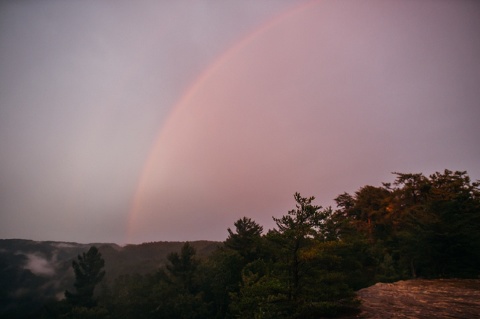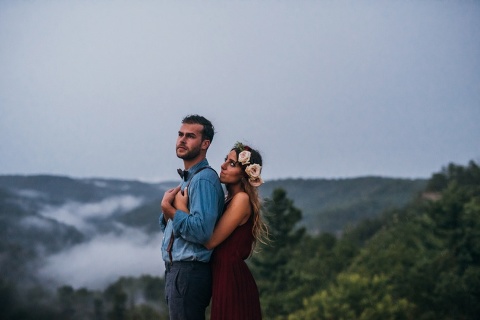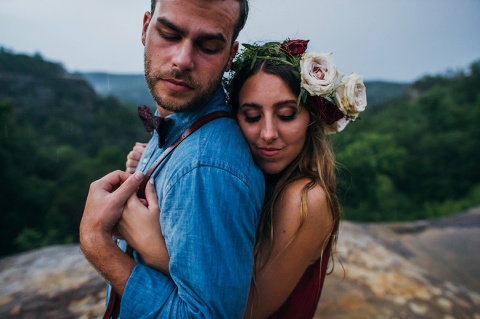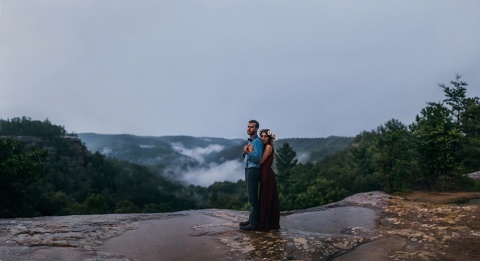 Watch the video captured by the AH-MAZING Happy Camper Films!
Photography & Styling: Susan Jordan of Love Hunters // Videography: Happy Camper Films // Florals: State & Arrow Design Co. // HAMU: Carley Brooks // Paper Goods: Mallory Meisner // Backdrop: Fernweh Supply Company // Dress: Twirl, Hayley Paige – Remington gown // Jewelry: burdees // Silk Ribbons: Wind & Silk