Haley Austin and I had just attended a Creative Mornings talk at the new Copper & Kings Distillery & Event Space, which happened to be all about collaborating. After meandering around the venue for the first time, we instantly knew we were meant to create something beautiful together within this amazing industrial and modern space.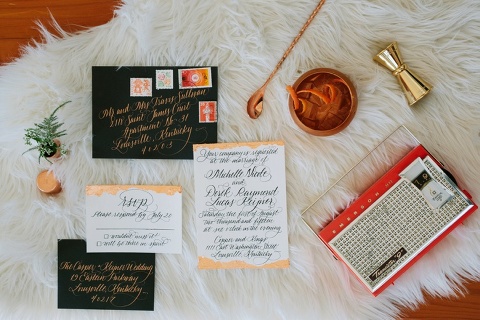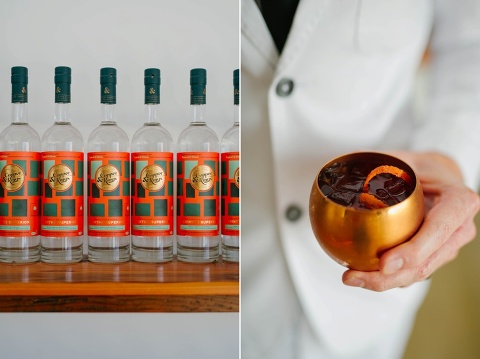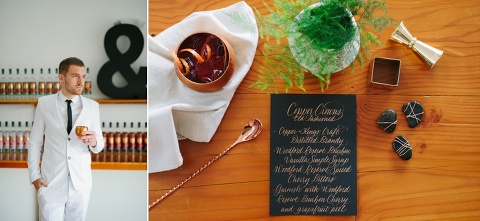 In need of a signature drink for your own wedding? The Copper Crowns (Old Fashioned) recipe can be found at the end of this post!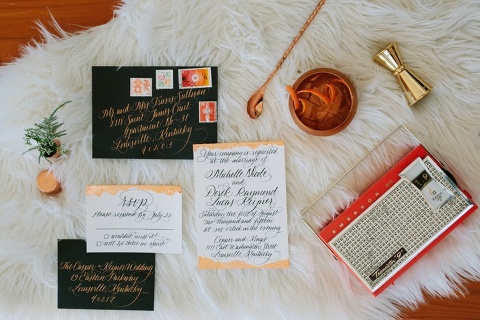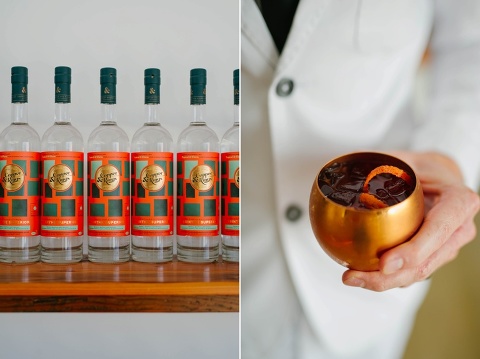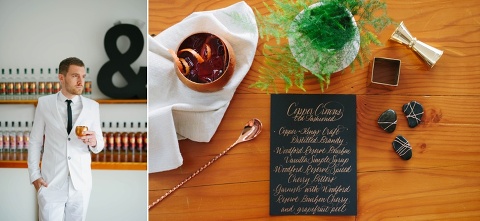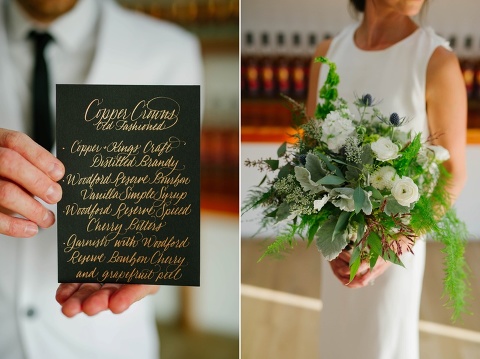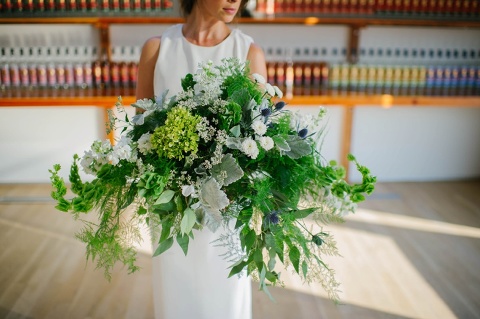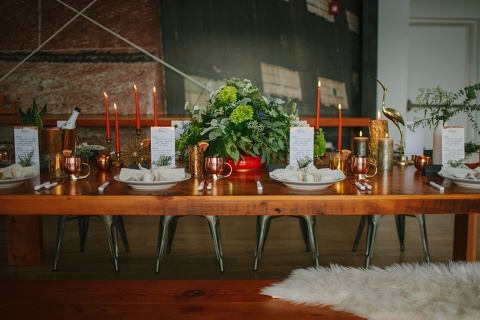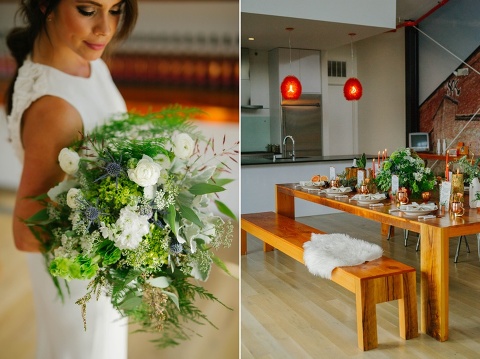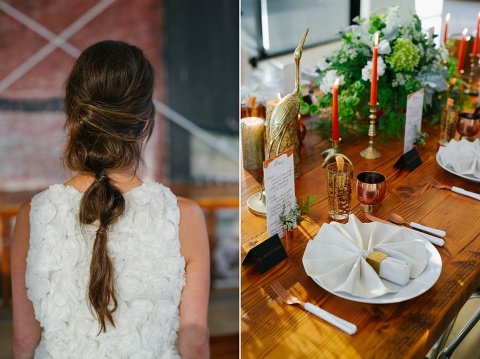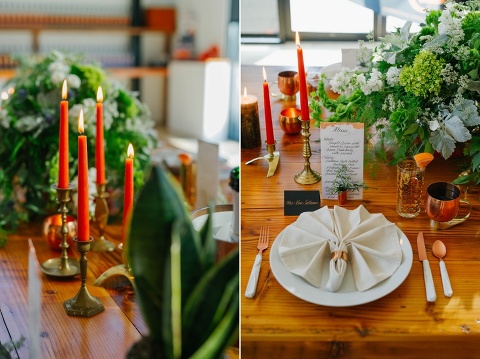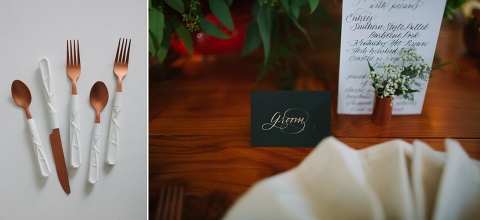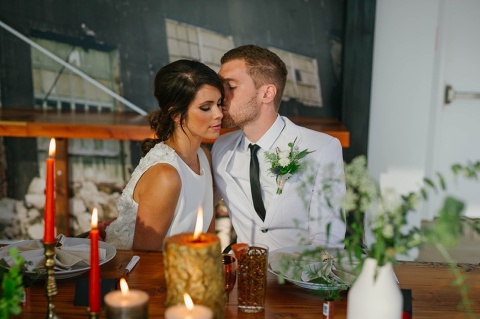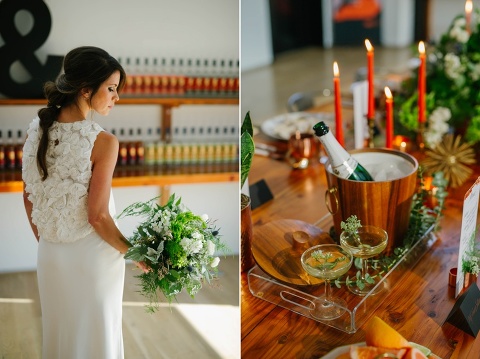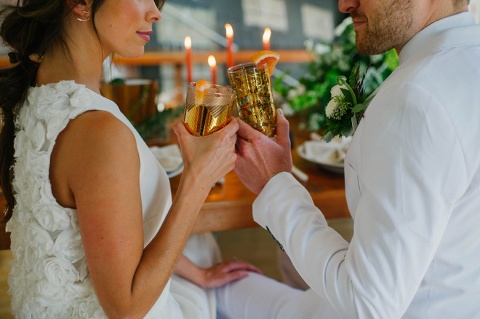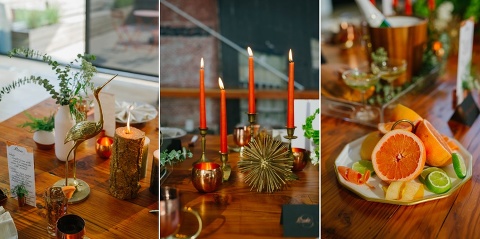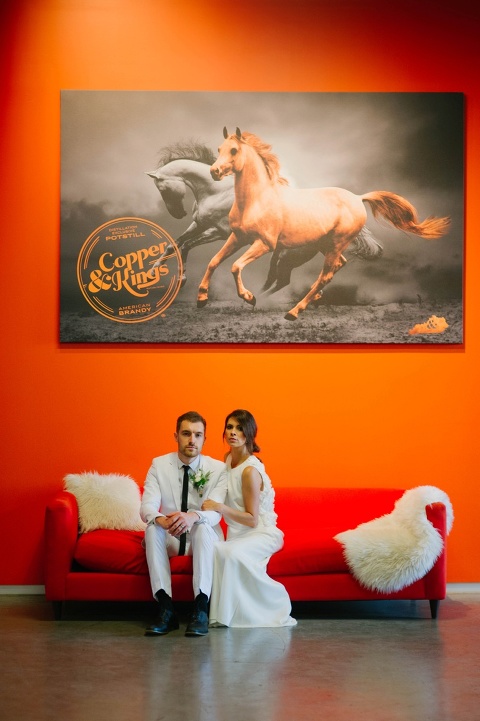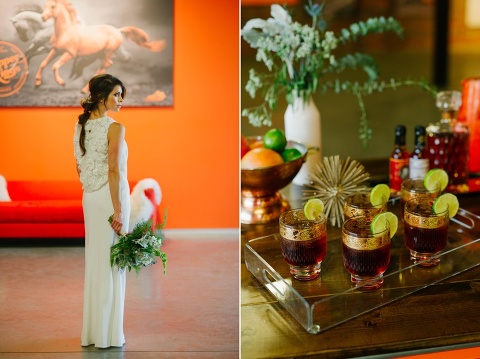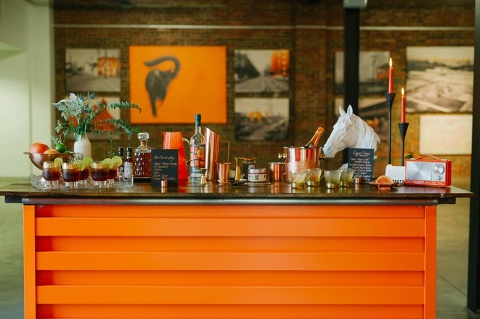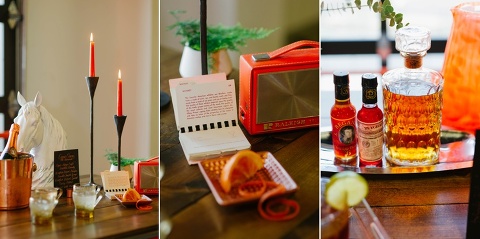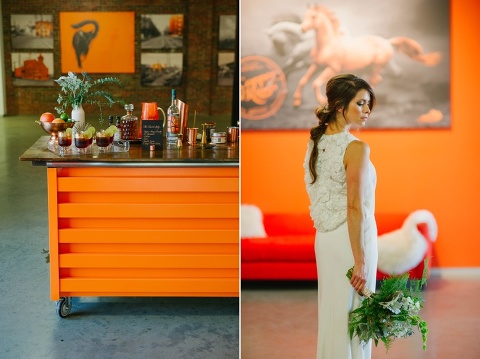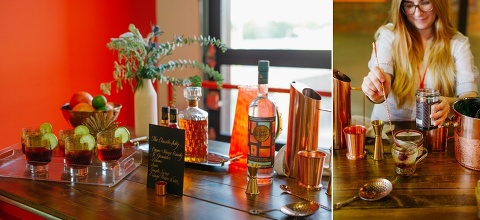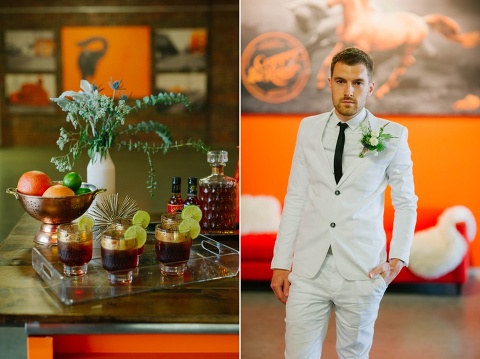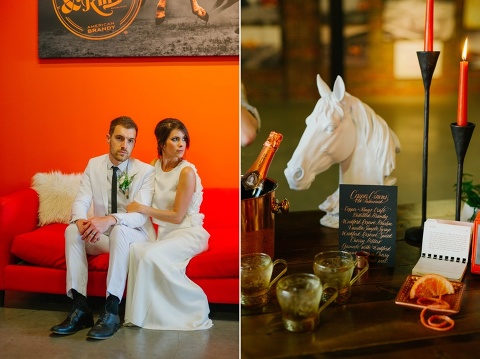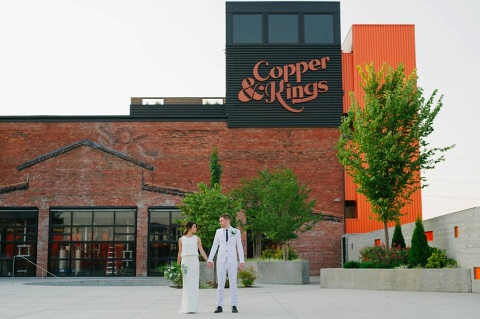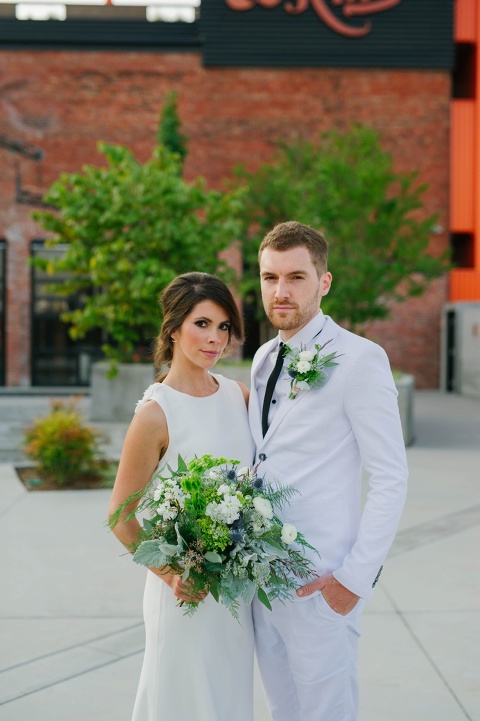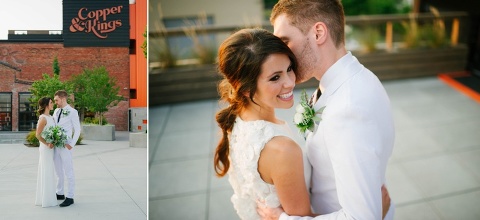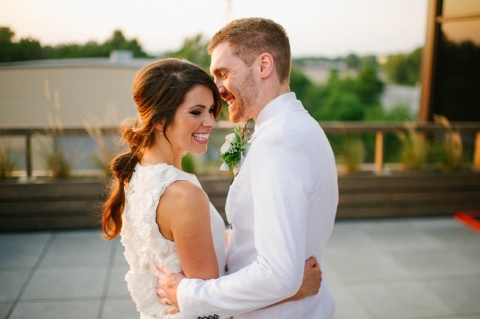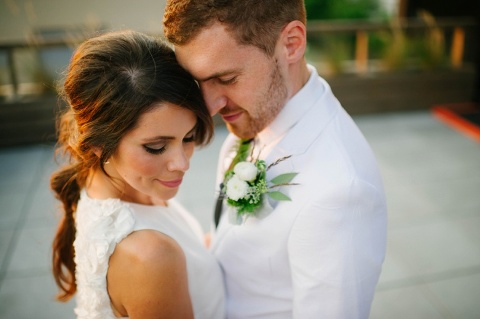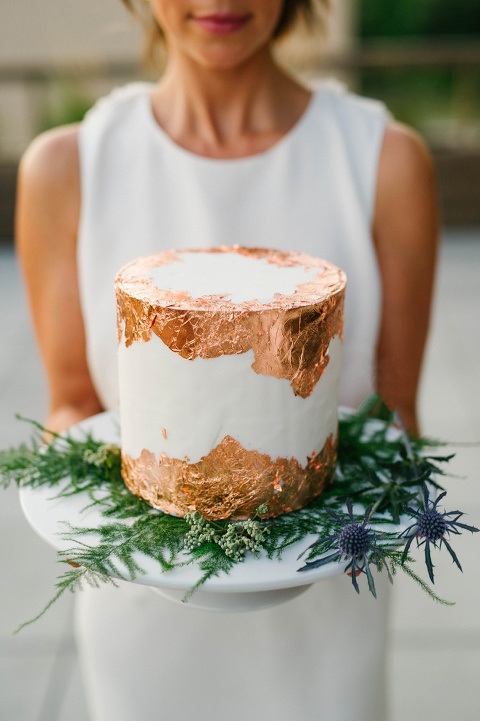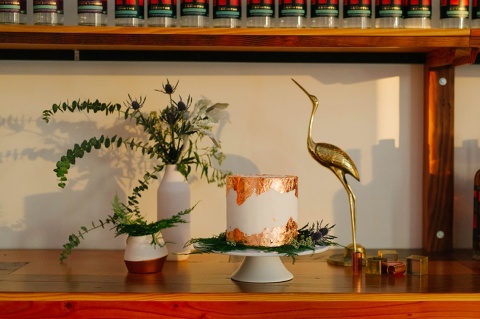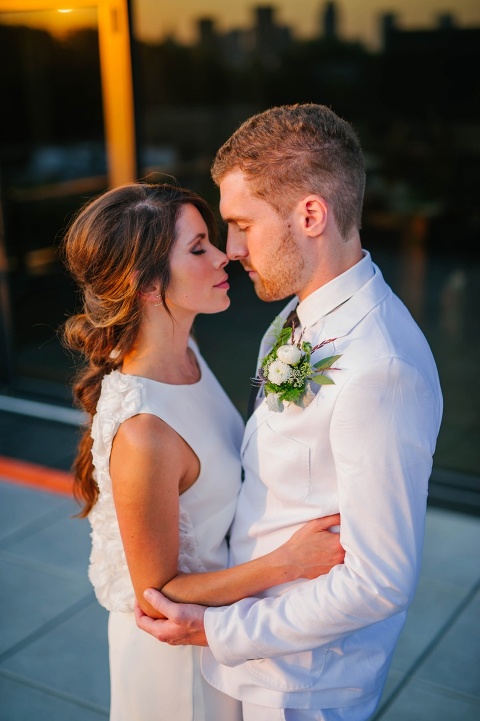 The Copper & Kings venue is filled with black and rich orange, a bold combination that can often be hard not to be distinguished as "Halloween colors". Besides making sure to positively play off of the venue's unique color palette and retro vibe, we particularly wanted to strive to keep the elements of the shoot modern and stylish, yet simple and seasonless. Marcardin Calligraphy brilliantly created a sophisticated chic invitation suite with a touch of copper leaf texture that was exquisite. Copper ink scripted on top harmonized with our cake from Sweets By Millie.  For florals we focused mainly on different types of greenery with a minimal pops of white blooms, which paired flawlessly with our retro tablescape infused with copper and gold elements. The bar station designed and styled by the amazing Adrian from Southern Soiree, was hands-down our favorite element of the entire shoot. It brought all of our favorite components of the editorial together and emphasized our love for a delicious cocktail.
Our urban + chic bride and groom rocked it out in their all white attire. We dressed our bride in a fashionable two-piece Lakum gown and paired it with an all white suit for our groom. Their attire allowed them to make a modern, high fashion statement, as well as blend in with the other bold elements of the shoot.  As the sunset cast a silhouette of the cityscape onto the building and disappeared on the horizon, our bride and groom relished in their love for one another and the city where it all started.
Copper Crowns (Old Fashioned) Recipe
· Copper & Kings Craft Distilled Brandy (2 oz)
· Woodford Reserve Bourbon Vanilla Simple Syrup (.25 oz)
· Woodford Reserve Spiced Cherry Bitters (2 dashes)
· Woodford Reserve Bourbon Cherry
· Grapefruit Peel
Photography Collab: Love Hunters & Haley Austin Photography // Venue: Copper And Kings // Invites & Calligraphy: Marcardin Calligraphy // Flowers:The Flower Shoppe of New Albany // Make Artist: Ashley Meadows // Cake: Sweets by Millie // Hair: Neatbeat // Rentals & Styling: The Southern Soiree & Adrian Jackson Minotti, Michelle Jaha // Dress: Lakum // Videographer: Colburn Video // Bride & Groom: Derek & Michelle Keijner